MUSIC
We have three music sessions each day, each an hour and a half long.
For some sessions, the children learn in small ensembles with those of a similar ability; and for others they are divided according to their specific instrument groups.

Session 1: Each day starts with a small ensemble session, where the children learn with others of a similar ability. The children work through many pieces during the week, and choose their favourite to perform in the concert at the end of the course.
Session 2: For the second session, they divide into their particular instruments (trombones together, horns together etc), with trumpets further dividing by ability (as there are always so many of them). This session takes many forms: individual performances - with comments by the tutors that are useful for everyone - for our course competition; dealing with a particular aspect of brass playing such as breathing; and with general aspects of musicianship, such as preparing for an exam or an audition, or dealing with nerves.
Session 3: This starts as a sectional rehearsal (with children in their instrument groups), and finishes with Massed Ensemble: everyone from the Principal Trumpet of the LPO to the child who has just passed their Grade 1, all having a blast together! The session, and the day, ends with awards and prizes for anything - great playing, amazing contributions during the day, stunning performance in the sports session; or adding in other ways to the course - by making us laugh, or being polite, thoughtful or kind - that has caught the tutors' attention (in a good way!) during the day.

During the week there is a course competition in which everyone plays a piece they have brought along, which provides a great opportunity for the tutors to hear the children individually and to help them with any particular issues.

From time to time one of the tutors will perform a short piece and talk its challenges through with the children; and during the course the tutors will hold an open rehearsal, so that the children get to see how top musicians work together on a piece of music.
Children in The Workshop (for Grade 8+ musicians) follow a separate programme, further details of which are given in The Workshop section.

---
SPORT
Every afternoon, we head onto the sports field or sports hall for two hours of organised sports and activities - even the keenest musicians need a break sometimes! The children play in their four house teams, and the sessions are designed so that everyone can enjoy them: we play games such as tag rugby, giant rounders, great balls of fire, dodgeball and so on.
The emphasis is on activity and having fun, rather than sporting excellence – though there are moments of that too! Many of the tutors join in these sessions, and the children v. tutors games cause much hilarity – needless to say, the only ones who are rude enough to argue with the referee during the week are the tutors...
Grade 8+ students in the Workshop spend the first hour of the afternoon with their tutors continuing with their musical studies, and can then choose whether to continue with music or to join the others in the sports session.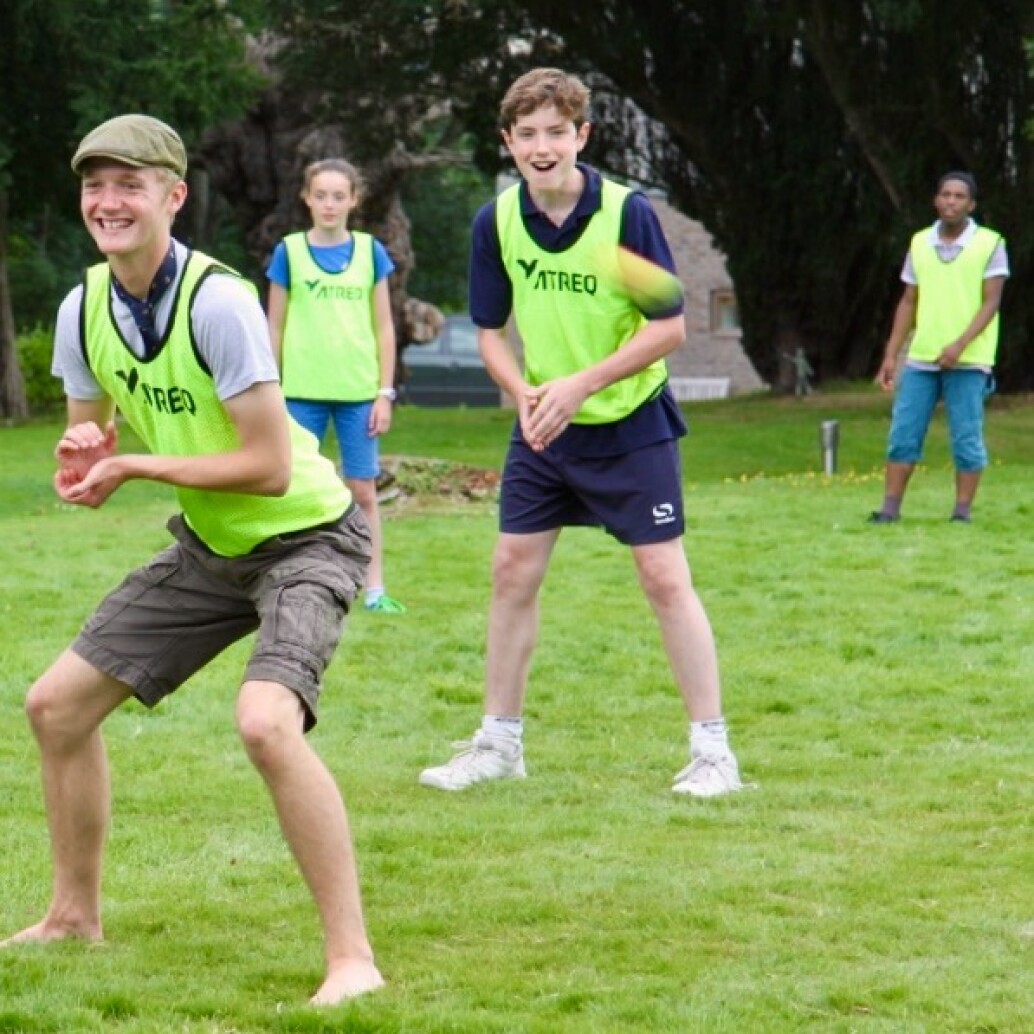 9.15 – 9.25 Registration for day pupils
9.30 – 11.00 Small Ensemble session. The children work with brass players of a similar ability and get to grips with various pieces of music, all the while being expertly led and taught by their tutors. Each group is taken by a lead tutor, assisted by several other tutors.
11.00 – 11.30 Break
11.30 – 1.00 Masterclass session. In this session, the children work in small instrument-specific groups (ie just horns; just trombones etc) with the tutors who play that instrument. There may also be an interactive session on breathing techniques; or a short concert given by visiting leading musicians; or one of the tutors may "take" an exam or have an audition, during which children can learn what to do to be successful (and what to avoid!).
1.00 – 2.00 Lunch and free time
2.00 – 4.00 Sport
4.00 – 4.30 Break/Tuck Shop
4.30 – 5.30 Sectional rehearsals. With those who play the same instrument.
5.30 – 6.00 Massed Ensemble, Tutor demonstration, daily prizes and awards.

At 6pm, day children will depart and the residential students will have supper, followed by evening activities. After showers and a bit of relaxing time/TV with milkshake and a snack, lights go out for children aged 12 and under around 9.30: teenagers stay up later until about 10.30pm.
---