As the Kinks said, "Give the People What They Want": and they want hoodies! We have sold over 250 since introducing them in 2017, and will be doing them again in 2020.
Colours
Navy blue
Royal blue
Dark purple
Bright green
White
Sport grey (quite light)
Pale pink
Bright pink
Gold (bright yellow)
Red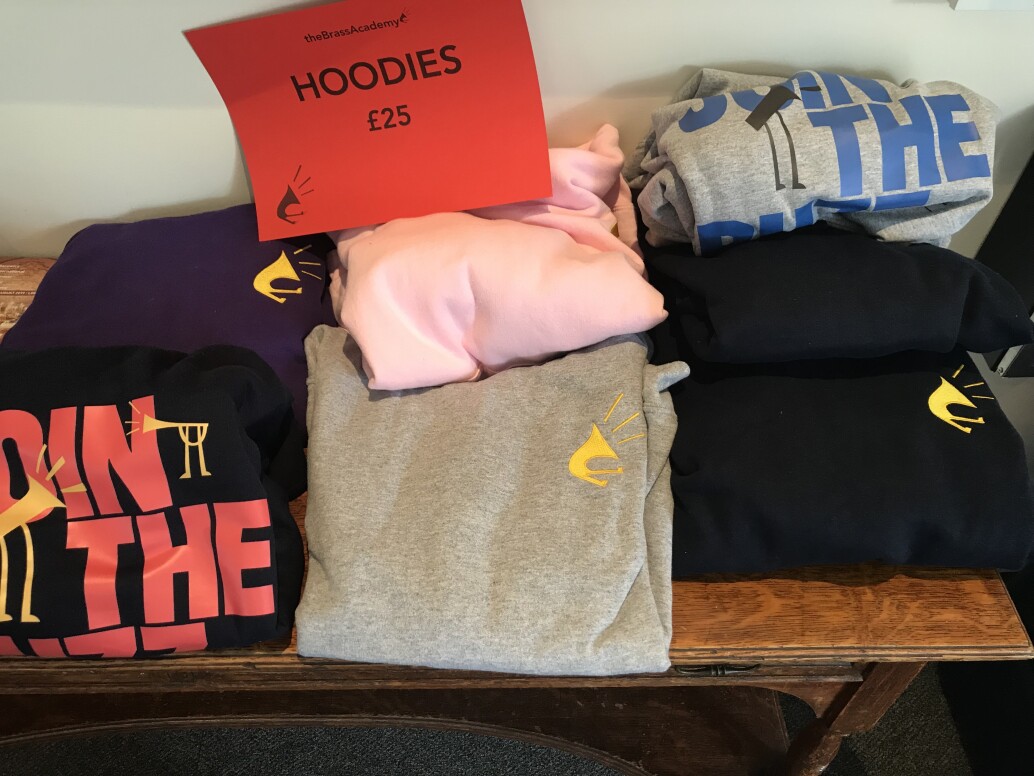 ---
Sizes
Kids M (chest 30-32", age 7-8) This is small - I'd say not even for 8 year olds unless they're tiny. Hoodie measures* 35".
Kids L (chest 34-36", age 9-11) Quite a jump up from the kids M. I'd stick to this if your son/daughter is average for those ages, rather than going up a size. Hoodie measures* 38".
Adult S (chest 34-36") I'm size 12 and it's a good fit (not baggy, not tight). Bigger than the Kids L, though the chest guide size is stated as being the same. Hoodie measures* 41".
Adult M (chest 38-40") Baggy on me - I'd say it's ladies' size 14 going on 16. Hoodie measures* 44".
Adult L (chest 42-44") Big! Hoodie measures* 48". If this isn't big enough, we can get XL/XXL, please just ask.

* This measurement is of the actual hoodie (rather than of the human body it's recommended for) and is taken around the hoodie's chest at the level where the hoodie's arms meet its body. Please measure your child's favourite hoodie to see which size is the closest fit - we are unlikely to be able to give a refund, as the size/colour combination will be ordered specifically for your child.

The hoodies are a great shape - not too long, not too boxy - and are really soft and comfortable, good quality and well made, with a pouch pocket.
---
Price
£25

How do I order one?
If you would like to order a hoodie for your child, please indicate this when booking a place - either online, by selecting the appropriate Course + Hoodie option; or on the printed Booking Form, by ticking the appropriate boxes. I'll contact you a couple of months before the course to find out what colour and size you would like.

When must I order by?
8 March for the Easter Course
28 June for both Summer Courses

When will I get the hoodie?
Hoodies will be given to the children during the first day of the course they attend. They will not be posted out, and you will only be able to get one by ordering in advance: they will not be available generally to buy on the courses.
---